About the Bellevue Chamber Chorus
Founded in 1984 in Bellevue, Washington, and currently led by Artistic Director, Ben Luedcke, Bellevue Chamber Chorus exists to bring beauty and artistic inspiration to the community through the choral arts.
The chorus – consisting of 28–30 auditioned singers of diverse backgrounds – performs 3 major concerts each season, encompassing a variety of choral literature from classical standards and contemporary works, to "world music", Broadway hits, and vocal jazz.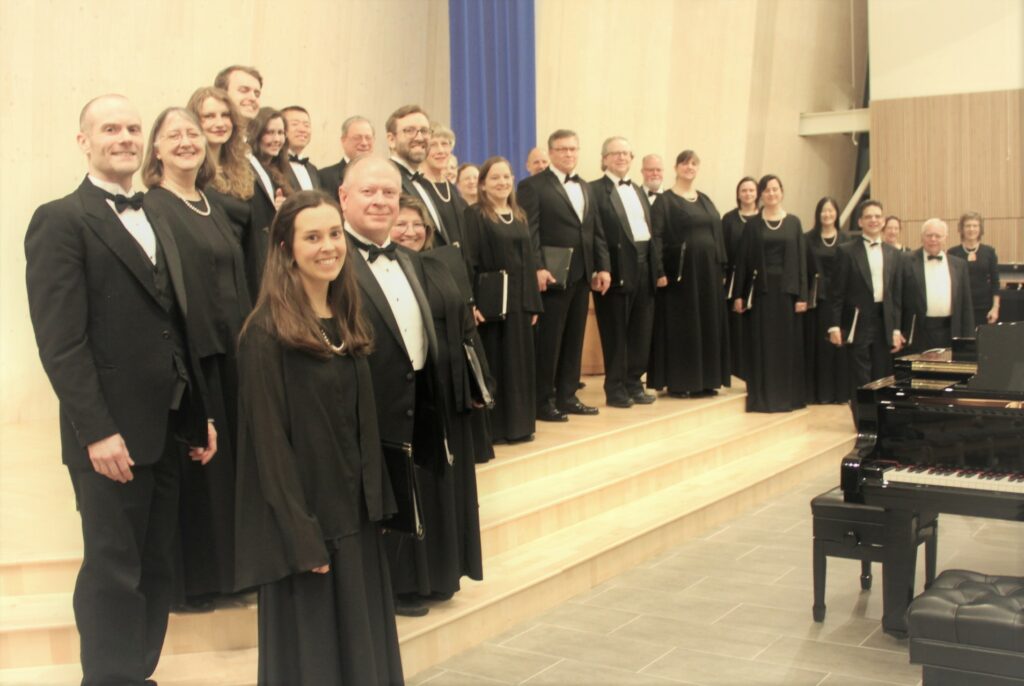 The chorus often joins other ensembles in performances of major choral/orchestral works, such as:
Mozart: Vespers and Requiem
Faure: Requiem
Verdi: Requiem
Handel: Messiah
Orff: Carmina Burana
Brahms: A German Requiem
Rutter: Mass of the Children
Ramirez: Misa por la Paz y la Justicia (Mass for Peace and Justice)
The ensemble has premiered works by regional composers, including:
Commissioned works for the Washington State Centennial Celebration
The grand opening of the Theatre at Meydenbauer Center
A special 20th anniversary season commissioned piece, "That Music Always 'Round Me" by Seattle composer, John Muehleisen
Participation in commissioning consortiums for works by Andre Thomas, Eric Whitacre, and Ola Gjeilo
We have released three CDs:
"Timeframes" (2000)
"Retrospective: 20th Anniversary Season" (2005)
"Christmas Visions, Winter Dreams" (2013)

And took our entire 2020-2021 concert season online:
Bellevue Chamber Chorus tours often and has performed in a variety of well-known and international venues, including:
Carnegie Hall, New York City
Salzburg Cathedral, Salzburg, Austria
Plaza San Marco, Venice, Italy
The Sydney Opera House, Sydney, Australia
The Kathaumixw International Choral Festival in Powell River, British Columbia, winning 1st Place in the Adult Mixed Chorus Category in 2008 (see our press release)
In the Provence and Aveyron areas of France, as part of the Festival International Choral en Provence
Other special performances have included:
The Leavenworth International Choral Festival
The international "Rolling Requiem" in memory of September 11
One of the regional choruses in the NEA-sponsored American Masterpieces Choral Festival in Seattle
Part of the Okanogan Choral Society's concert series in Kelowna, B.C.
One of six choirs performing in a special GSCC event "Welcome Home Morten Lauridsen"
Fun facts:
Approximately half of our members have been singing with us for at least 10 years.
There have been two official "Bellevue Chamber Chorus Days" proclaimed by the Mayor of the City of Bellevue, Washington: May 30, 2009 and April 14, 2019.
We are one of five Eastside choral groups that sponsor the annual Eastside Sings sing-along program.
Bellevue Chamber Chorus is a 501(c)3 non-profit organization, which receives its support from the generous donations of people interested in fine musical experiences on Seattle's Eastside.
Bellevue Chamber Chorus has active memberships in the Bellevue Downtown Association, Greater Seattle Choral Consortium (GSCC) and Chorus America, and is supported in part by the Bellevue Arts Commission and 4Culture.
---
Ben Luedcke, Artistic Director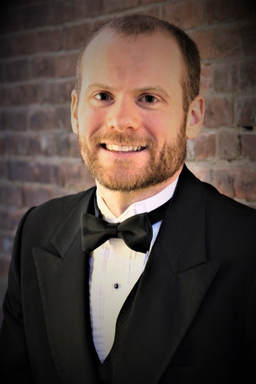 Ben Luedcke is in his fifth season with the Bellevue Chamber Chorus, as he began as Artistic Director in 2019. Ben is also the
Minister of Music at Seattle First Baptist Church in downtown Seattle. He is currently finishing his Doctorate of Musical Arts
at University of Washington and he has held teaching positions in the choral, musicology, and English departments. Before moving to Washington, Ben was a Visiting Assistant Professor at Monmouth College where he conducted the Monmouth Chorale and chamber choir. Ben has also served as faculty at Grinnell College, where he conducted both the Grinnell Singers and the Grinnell Oratorio Society. Ben is known in Madison, Wisconsin for several of his startup organizations: he was the co-founder and director of Voces Aestatis, a Wisconsin-based professional choir that specialized in the a cappella repertoire of the sixteenth century. Likewise, Ben was the founder and artistic director of Madison Summer Choir, a community chorus that performed large orchestral works. He lives in Seattle with his wife, Vanessa, and their two dogs, Luthor and Oona.
---
Julia Bezems, Student Assistant Conductor
Julia Bezems is excited to join the Bellevue Chamber Chorus this season as the Student Assistant Conductor. Hailing from Allentown, PA, Julia holds Bachelors degrees in voice performance and computer science from the University of Michigan, and she is now active as a choral conductor and ensemble singer in the Seattle area. While at the University of Michigan, she performed frequently as a soprano with the Chamber Choir and as a soloist with the University Baroque Orchestra. Since moving to the Seattle area in 2022, she has sung with Seattle Pro Musica, Opus 7 Vocal Ensemble, and the Northwest Symphony Orchestra; and she will join Radiance vocal ensemble as a soprano this season. She serves as the co-leader of the Seattle branch of Crescendo North America, an international organization for Christian musicians, and she freelances as a choral conductor for projects with Crescendo and other community engagements. Julia works as a software engineer at Microsoft, and she enjoys hiking and studying theology.
---
Minju Kim, Accompanist (Fall 2024)
Minju Kim joins Bellevue Chamber Chorus this season. A native of South Korea, she has been active as a soloist, chamber musician and collaborative pianist. Minju won numerous awards, including Sidney Wright Accompanying Competition, Korean Music Association Competition, and Korea-Germany Brahms Association Competition. Her avid interest in chamber music led her to play at Bowdoin International Music Festival and Music Academy of the West as a fellow in collaborative piano. Also, she served as a chamber pianist for the chamber groups playing piano trios in Heifetz International Music Institute. For the last two years, Minju was a lead collaborative pianist at Northwest Girlchoir. Currently, Minju is a collaborative pianist at Shoreline Community College, and frequently performs in concerts, radio programs and competitions with local musicians. Minju holds degrees in piano performance from Seoul National University in Korea (B.M.), Indiana University (M.M. and P.D.), and University of Texas in Austin (D.M.A), as well as a M.M in collaborative piano from New England Conservatory.
---
Kristine Anderson, Accompanist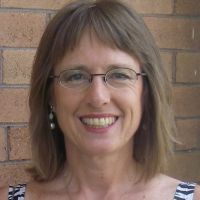 Kristine Anderson graduated with a music performance degree from the University of Montana at Missoula. She is well-known
in the Puget Sound region for her artistic and sensitive work with singers as well as instrumentalists ranging from tuba to piccolo. Equally at home with jazz, pop, and classical, she can adjust her style from Sondheim to Gershwin to Strauss. Her clients include winners in local and national competitions, including the Seattle Young Artist Music Festival, Metropolitan Opera semifinals, and concerto contests. Kristine has also served as accompanist for the Flute and Piccolo Forum, hosted by Seattle Symphony flutist Zart Dombourian Eby. From 2012 to 2020 she was a staff accompanist in the University of Washington Music Department, and she has been the accompanist for Bellevue Chamber Chorus for the past fourteen seasons. She is also the pianist at Christ the King, Assumption, and Journey Christian churches in Seattle.
---